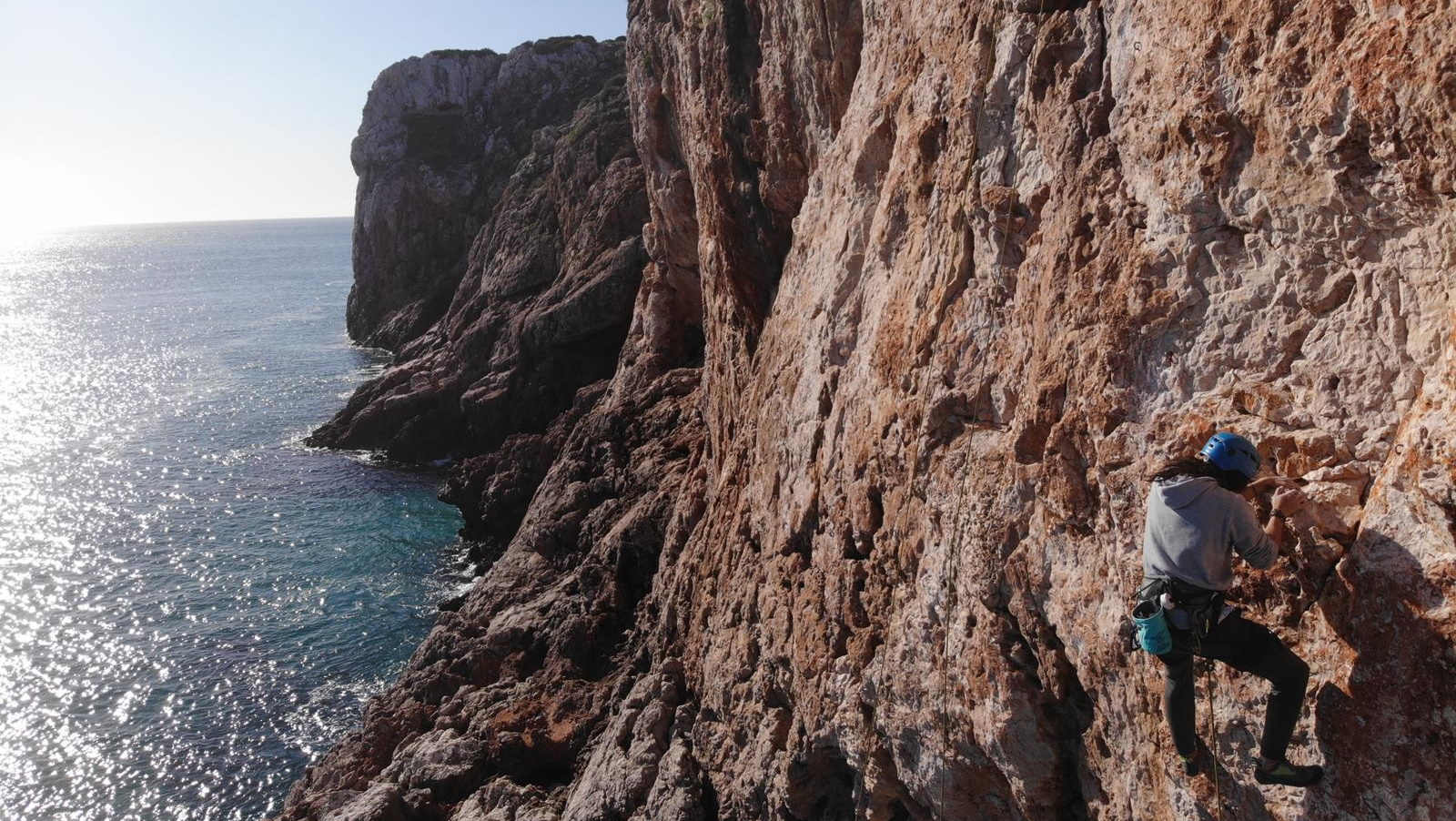 ROCK CLIMB LESSON AlGARVE
Welcome to ASA Algarve Sea Adventures, where we bring you 10 years of knowledge and expertise in sport climbing, surfing, and bouldering adventures in the mesmerizing Algarve! Our primary goal is to prioritize safety and fun, ensuring an unforgettable experience for every participant. All our guides are international certified. 
While climbing in Portugal may still be in its early stages you can expect, exceptional rock quality, and complete immersion in nature. In the Algarve region specifically, we are blessed with stable weather throughout the year, offering you the opportunity to explore a diverse range of climbing sites in Lagos and Sagres and the breathtaking environments.
No matter your skill level, we are dedicated  tailoring each outing to your individual abilities and preferences. Our commitment to safety is unwavering, as we maintain private sessions or keep a small participant-to-instructor ratio, guaranteeing a secure and high-quality experience.
Discover the climbing sites of the region, each one unique in its own captivating way. From awe-inspiring rugged ocean cliffs and cozy countryside routes, the Algarve has something extraordinary to offer every climber. Sport climbing in the Algarve will spoil you for live. 
Join us! We combine our extensive knowledge, unwavering commitment to safety, and the sheer joy of adventure to create unforgettable moments amidst the Algarve's breathtaking climbing landscape.
Come and experience the thrill of scaling new heights, surrounded by the natural wonders that make the Algarve an unparalleled climbing destination.
What is the schedule and what's included? 
o Session in total 4-5 hours 
o Rocktime 2-3 hours 
o Fully qualified and friendly guides
o Setup of the climbing routes
o Free transportation to the spots around Lagos and Sagres
o Pick up and drop off at your hotel or meeting point
o complete climbing equipment


Whether Beginner or Advanced, Toprope or Lead Climb - We Find the Perfect Rock for You


Pricing 50€-150€ 
1 Person = 150€/ each
2 Persons = 75€/ each 
3 Persons  = 60€/ each 
4 Person = 55 each 
Climbing Level : Beginner - 6b 
You are a beginner to intermediate climber and you want to approach the next level of climbing in our Lead Climbing Class, in a unique and safe surrounding.


You just need to have previous experiences in safe belaying and being able to climb a 4 onsight. Leave the safe harbor and start your lead climb career in the outdoors here in the Algarve.
What is the schedule and what's included? ( minimum 2 Pax needed)
4 Days of Climbing Lesson
Programm includes:
Lead Climbing (easy grades & belaying)
Climb Gear (Helmets, Harness, ATC+ Carabineer)
Possible different options to belay
Learn about your climbing gear
Clean & rebuild your routes
Qualified Instructor + good time
Ready for your Rock Climb Adventure!
Time by time it's nice to have some nices pics or a video of yourself doing what you love taekn by your guide.  Everybody knows it's hard to capture nices pics while climbing. So don't waste lifetime searching for the nice Climb spots in the Algarve and enjoy the selection our Climb Guide can offer. 
While you & your partner are climbing, we will get our drone up and capture some amazing pics and videos in 4K.

So how does the Halfday Trip will look like ?
We meet in our shop in Praia da Luz
You get equipped if needed with all climbing gear & Ropes ( no trad gear)
Transport to the rock
Our guide will show you the spots, you set up the anchors ( if needed our guide double check)
You climb 2-3hr and meanwhile our Guide will get the drone up and will shoot for 50min
After the climbsession you receive a low quality video, and the 4K footage on a USB Stick
REQUIREMENT
Experience in safe climbing and belaying in the 5th grade

Toprope or/and Lead Climbing
If you like to have 4K video out if your footage, we charge additional 50€ and you will receive the video the next day you can add this in the booking.
Ready to challenge yourself and finally give climbing a try? If you've been missing the opportunity or searching for the perfect environment for your first climbing experience, then you've come to the right place! The climbing sector near Lagos offers you the ideal setting to gain a fascinating insight into the outdoor sport of climbing.
Since 2015, we have been firmly rooted in the outdoor sports landscape of the Algarve, and all our guides are internationally licensed. From start to finish, we will accompany you on this exhilarating adventure. Our course includes an introduction to basic climbing techniques, secure belaying, and essential knots to ensure your safety. We provide all the necessary equipment and can't wait to introduce you to the captivating world of climbing.
It's time to unleash your athletic side and embrace new challenges. Feel the thrill as you work your way up the rocks, building confidence in your own abilities. Enjoy the breathtaking views and the unparalleled freedom that climbing in the great outdoors brings. This is your chance to push your limits and embark on a new chapter filled with sporting experiences.
Join us and let's conquer the climbing world together! With our expertise, passion for the sport, and commitment to your safety, we will be there with you every step of the way. Become part of our climbing community and experience unforgettable moments full of challenges, growth, and boundless enthusiasm.
Embrace the challenge and feel the adrenaline rush as you boldly ascend to new heights. The Algarve welcomes you with open arms, ready to reveal the beauty and countless possibilities of climbing. Are you ready to surpass your limits and dive into a world full of sporting experiences? Don't hesitate any longer—grab your climbing shoes, gather your courage, and join us to discover the fascinating world of climbing in the Algarve!
Are you ready to conquer the heights? Don't wait any longer — pack your courage, and join us to explore the captivating world of climbing in the Algarve!


Kurtis
Beginner Rock Climbing Lesson

Becks
Sport Climbing Sagres
Uschi R
Rock Climbing Algarve
Patrick Thorson
Passionate Climber
Magnus Pettersen
Lead Climb Class
Searching Availability...
GET IN TOUCH
Keep your Algarve contacs up to date and reach us as you like it most!